Welcome to DeepSky Ranch!
I very much enjoy having company and want you to enjoy your visit. Here's a few pieces of information to make your trip more enjoyable.
DeepSky is located in the rolling hills of rural San Benito County, California, about an hour and a half south of San José and Silicon Valley. Click here for directions to the ranch.
Bring a camera—the surrounding area presents you with a California of a hundred years ago, with huge open spaces, a gorgeous range of colors in every season, and a sense of peaceful balance.

If you're coming from US 101, think about taking a sidetrip to one of the wonderful San Benito County wineries along La Cienaga Rd. See more information

here

.

The little town of Tres Piños hosts a variety of restaurants. The 19th Hole is the locals' hang-out, with a limited but good menu and a real country saloon atmosphere. There's an informative review

here

. The Tres Piños Inn is a white-linen dinner house with unique cuisine. La Cantina reincarnates itself regularly. As of April, 2009, it's a Cajun restaurant with a really nice patio. Melissa also reviewed this

place

.

Then there's Paicines. It's basically a junction with a Post Office and a country store/taqueria. I can testify to the quality of the tacos, they have a great selection of cooold drinks and snacks, and you can get ice here.
You are going to be way out in the country, so make sure that you've brought all your essentials/can't-live-without goodies, whether that's your eyeglasses, your Jolt cola, or your asthma meds.

The ranch is located at 2000-ft. in an oak savannah desert. Depending on the season, there could be snow, sleet, hail, or very high temperatures. Bring appropriate layers.

The house is completely off-grid, with solar electricity and propane heating. I do try to manage electricity use, especially on short winter days (long viewing nights!) so if you think you will be using a high-draw device, consider bringing some portable power source.

Take it easy coming up the dirt road to our place: it's a lot easier on you, your car's shocks, and it keeps the neighbors from breathing dust.

There are some rather unpleasant critters that you may come across. Review basic hiking information about rattlesnakes, spiders, and wild pigs. Mind, you are very unlikely to encounter any of these, but it doesn't hurt to refresh the knowledge. See the California Department of Fish and Game's

page on snakes

for good practices.
This is a ranch and yes, there are critters, so try to remember the following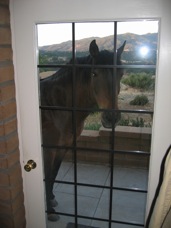 Gates into the ranch are closed because we'd like to keep the livestock at home. Please leave all gates as you found them, whether open or closed.
When we expect visitors, we put the horses out of the dooryard which you will enter. If the horses are within about 50 feet of the gate, shoo them off before enterin. Just pretend you are playing monster with a 10-year-old :-). You know, growl, jump up and down, flap your arms, and otherwise act loudly foolish.
We have a large herd of cats. Kindly keep an eye out for them when you are moving vehicles or other heavy objects. Mostly they hide, but occasionally they have a fit of sociability.
By the way, dogs are welcome to come visit but must be leashed at all times. This is for your dog's protection: I have a mustang who thinks he's the Doginator ("Wolf! Must defeat!") which can cause unfortunate owies for pups.